Reviving an old homestead orchard
Soon after buying this property, we discovered there was much to be done to restore it to a healthy state again.  We started by pruning out the dead wood, thinning fruit when trees over-produced, mulching, rebuilding irrigation, controlling erosion from run-off, and removing invasive weeds and grass.  
Many of the historic trees had been lost and the original layout of the orchard had been altered too much making it impossible to replant in the same design.  So, we developed a plan to bring back the habitat that once supported the trees.  We began to  incorporate perennial shrubs, herbs, and native flowers in patterns around the existing trees.  This was a very slow process due to much of the top soil being eroded or removed that made areas suitable for planting very limited.  We rebuilt the original pond that was once a major source of irrigation for the orchard.  Within a couple seasons, we started to notice an increase in the return of migratory birds, bumblebees, frogs, dragonflies, and garter snakes.  The orchard was coming alive again before our eyes providing the inspiration we needed to continue moving forward.  
We've chosen to manage our orchard without chemicals and by minimally using machines.  We have to be diligent to keep up on orchard cleanliness and have good timing to get ahead of pests and invasive weeds.  We've tried using different kinds of livestock for grass and weed management but we found the management of large animals here to be very challenging.  We've recently added chickens to help with the orchard pest control and a couple rabbits who do a little mowing in the pathways while providing some nice fertilizer.  Mostly, it's just good old fashioned hard labor that gets the work done!   
Each year, our goals need to be streamlined on how to accomplish them simply and efficiently in our short season.  We find we are outnumbered in the tasks needing done! For those interested, we are always looking for anyone wanting to gain experience in orchard care or homesteading.  Volunteer a little time here and take away loads of valuable experience to try on your own venture.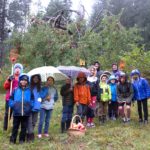 One thing that is vital to the bringing this homestead orchard back to life is sharing it with our community.  Even with it's small size, it gives us more than we need.  Thanks to the support of all who visit our farm store and come to our events, it is already on it's way to being self-sustainable.  We want to be sure that it continues to survive and be a place for people to come and enjoy for a long time!      
Experience Mountain Roots Orchard!
Join our MRO team as we plant, weed, harvest, connect, and have fun!
Find out what's happening at our orchard during the season from festivals & plant sales to visiting vendors & workshops.