Bedding Plants, Native Shrubs, Heirloom Fruit Trees, & berries
We are located at an elevation of 3,400 ft. with a unique micro-climate in the canyon, so growing here isn't short on challenges! Our focus is on producing and supplying cold-hardy trees and plants that are suited to our northern climate. Each season, we offer a limited stock to the public at our Farm Store Nursery, along with fresh fruits and vegetables.
We continue to add to our stock of heirloom apple varieties, with many grown by St. Lawrence Nursery in Potsdam, NY. They have a similar growing climate to us and their trees have done well here.
Help keep these tried and true named varieties alive by planting them in your home orchard!
It's not uncommon to find all kinds of berries growing wild along the creeks and rivers in central Idaho.  The Blackcap Raspberry is one plant that has naturalized itself in our area.  We are working to grow this and a variety of other cold hardy berries in our nursery, including Blueberries, Red Raspberries, Gooseberries, and Strawberries.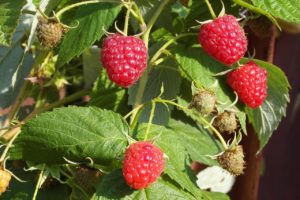 The variety names of the original fruit trees here are unknown.  It takes time and money to get each one tested.  Hopefully, we will be able to do so in the future.  Thanks to the bears and other animals, there are some wild tree creations scattered around the property and not always in a convenient location!  These trees are unique in flavor and equally delicious!  
It is our goal to expand our orchard with the best of the old and wild varieties that grow here.  Each year, we are collecting scionwood from our favorite fruit trees to graft onto rootstocks .  We have chosen the OHXF97 Pear and Antanovka Apple rootstocks.  Both of these rootstocks will grow a standard sized tree that can grow beyond 25 feet if not pruned.  One amazing feature of these rootstocks is that they can survive easily in our northern climate and  last for a century or more.
We offer seasonal fruits & vegetables, too!

Fresh blueberries starting July-Aug
and apples Aug-Oct.
We offer a small variety of vegetables and herbs, as well.   All grown without herbicides or pesticides!
Microgreens have a denser nutritional value than when they are full grown plants.  They are packed with vitamins and minerals such as, A, B, C, E, and K, calcium, iron, magnesium, phosphorus, potassium, and zinc.  It just takes a little sprinkled on your sandwiches,  pastas, and soups to add a boost of nutrition to your day.
Some of the microgreens we grow
*grown with organic seeds and potting soil
A sweet green that bursts with pea flavor.  The best substitute for lettuce in salads and sandwiches
A crunchy shoot that  adds a nutty flavor to any dish.  Tastes good by itself as a snack.
A spicy radish flavor that tastes great on stir-fries and livens up burgers.
In 2020, we were fortunate to have a visit from a member of the The Lost Apple Project and one particular early apple tree caught his attention. After further research, it was discovered that this tree might come from an unusual antique variety known as Chandler. Scion wood was collected for testing. We appreciate all the work this group is doing!
Experience Mountain Roots Orchard!
Join our MRO team as we plant, weed, harvest, connect, and have fun!
Find out what's happening at our orchard during the season from festivals & plant sales to visiting vendors & workshops.